UBC Engineering's world-class faculty and researchers are committed to an instructional approach that is varied, experiential and engaging. This multi-faceted approach makes UBC engineers stand apart, on a firm foundation from which to build an exciting and rewarding career.
What you might expect/course format
While each course varies based on the subject and instructor, our VSP Packages feature:
Interactive in person lectures
Hands-on labs, fun and practical demonstrations
Team-based assignments
Fun social activities
Experience with industry standard software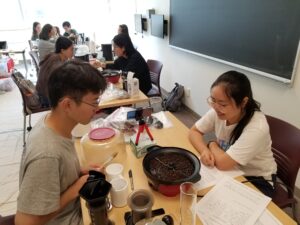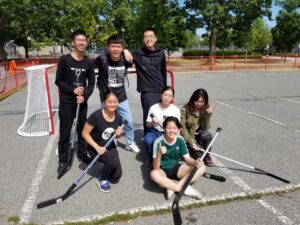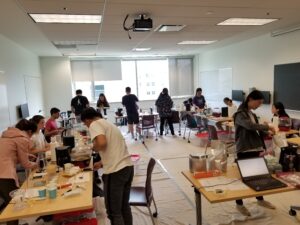 The Power of Chemistry: an Introduction to Matter, Energy, and Chemical Engineering
Matter and energy are the building blocks of our universe. Using their understanding of these concepts, chemical engineers re-organize and transform matter and energy to produce new substances and materials. From the pharmaceuticals we take when we are sick, to the fuel we put in our vehicles, to the plastics, alloys and polymers that we find in our homes, in our phones and virtually everywhere around us, chemical engineers are involved, combining their technical skills with their understanding of social, economic and environmental factors. This course provides an introduction to the chemical engineering discipline, first by providing an overview of the physical processes and laws involved in the conversion of raw materials into refined products, and secondly by applying these concepts into more practical applications and designs. Students will have the opportunity to perform laboratory experiments illustrating some key concepts. This is an introductory course, and no prior knowledge of chemical engineering is therefore required.
The Power of Biology: an Introduction to Biological Engineering
Science has advanced to the extent that humankind now asserts its dominion over the very building blocks of life. Engineers are at the forefront of the efforts to harness the power of biological systems to develop new technologies, materials, medical tools and treatments, foods, industrial products and environmental processes to improve the world around us. This course provides an introduction to biological engineering. It includes introductions to the fundamental concepts of microbiology, cell biology, genetic engineering, and bioprocessing, before explore more specialized topics like the production of biofuels, novel foods and pharmaceuticals, biomaterials, and recent advances in biotechnology. Humans are faced with new ethical quandaries with these astounding technological advances. Hence, the ethics and social aspects of bioengineering are also discussed. Participants will have the opportunity to apply theory into practice through lab experiments, including the genetic engineering of bacteria. This is an introductory course, and no prior knowledge of biochemistry or biological engineering is required.
No prerequisites.
*This course package is canceled for July 2023. Students who have applied for this package are encouraged to consider switching to CHBE A JULY.
The Science and Engineering of Coffee Production
For many of us, coffee magically appears every morning at the press of a button or served by a smiling barista at our favourite café. Chemical engineers, however, see coffee as the product of a series of physical and chemical processes through which coffee beans, picked from a plant, are converted into the delectable beverage we all enjoy. This course introduces the scientific and engineering concepts that go into coffee production. Each step of the production process will be studied, and the underlying physical and chemical phenomena involved will be explored, from the cultivation of the plants, through the heat and mass transfer involved in roasting, drying and brewing, and through the engineering considerations that go into the design of coffee machines and cups, all while considering engineering, economic, sustainability, and ethical factors. There is hands-on experience process engineering through relevant laboratory experiments during which they will develop their own coffee blend and compete against their classmates to see who can make the best product. This course takes a technical look at coffee production, and so familiarity with basic calculus, chemistry, and physics is recommended.
The Science and Engineering of Beer and Wine Production
We've come a long way since beer was first brewed in Mesopotamia 6000 years ago, and today we have easy access to a boundless diversity of beer styles and flavours from all over the world. Wine, beer's much younger cousin appearing for the first time a mere 4000 years ago, continues to this day to evoke images of mystery and romance and serve as inspiration for songs and poems. Chemical engineers, however, though many remain romantic at heart, see beer and wine as the result of a series of physical, chemical and biological processes that convert the sugars in fruits and grains into the beverages many of us enjoy. This course presents the chemical and biological engineering concepts involved in these processes, exploring underlying principles and disciplines including microbiology and cell culture, bioprocessing, heat and mass transfer, and phase separation, all while keeping economics and sustainability under consideration. Participants will work both in the classroom and in hands-on laboratory experiments, during which they will develop and study their own batch of beer. This course is a technical introduction to these processes, and familiarity with calculus, chemistry, and physics is therefore recommended.
Participants must be 19 years or older
*This course package is canceled for July 2023. Students who have applied for this package are encouraged to consider switching to CHBE A JULY.
Introduction to Computer-Assisted Problem-Solving
Computers have come a long way over the last few decades and now impact virtually every aspect of industry, business and society. Engineers have been able to take advantage of advances in these technologies by using computers to solve complex problems that were previously impractical or even impossible to solve. This course examines how computers solve problems. Various methods and computational tools will be applied to engineering problems in chemical and pharmaceutical production, energy generation, and engineering design. This course will focus on how to formulate problems that engineers and others face every day, into language and commands that computers can understand. The application of numerical analysis techniques to a variety of systems will be explored, and tools that make problem-solving efficient, fast, and reliable will also be introduced. The tools presented in this course will be applied to the content in the other course in this package, providing participants with a comprehensive overview of the data collection and analysis process, that is applicable to virtually all fields of study in science and engineering. Everyone is welcome and no prior experience in computer programming is required.
Introduction to experimental design and data analysis
In both academia and industry, scientists and engineers routinely perform bench- and pilot-scale laboratory investigations. Hidden behind the experiments performed, however, is a considerable amount of time and energy that must be dedicated to the design of efficient and useful experiments, that will provide the data required to accomplish experimental objectives, as well as the time and expertise required to properly analyze that data to extract useful and reliable information, all of which are crucial skills for scientists and engineers. In this course, students will learn the fundamentals of experimental design and analysis; from the use of factorial design to test multiple variables, to the use of experimental controls, and will acquire thorough experience in designing appropriate experiments to effectively test scientific hypotheses. The appropriate analysis techniques for understanding the data collected from experiments, as well as how to graphically and statistically present this data will be explored, helping students to confidently draw conclusions from experiments. Computer-aided experimental design tools, supplementing the concepts presented in the other course in this package, will also be introduced. Finally, students will have the opportunity to design and perform their own unique experiments, and present their data to their peers. Everyone is welcome, and no prior experience in statistics or experimental design is required.
*This course package is canceled for July 2023. Students who have applied for this package are encouraged to consider switching to CHBE A JULY.
Out With the Old, In With the Renewable: An Introduction to Renewable Energy
Decreasing fossil fuel reserves and the need to mitigate the effects of climate change are pushing us to develop and implement technologies for the production of renewable, carbon-neutral energy. Over the last decade, exciting advances have been made not only in solar and wind power generation, but also in the development of less traditional renewable energy sources, such as biomass-derived fuels, geothermal and tidal power generation technologies, and active materials. This course explores the science and engineering behind renewable energy technologies and discusses recent advances and future research directions for their further development. Beyond technical details, the social and economic contexts of renewable energies are also explored. The shift to renewable energy is a truly global phenomenon, and an exciting field for scientists and engineers to get involved and work together. In this course, students will get hands-on experience with different technologies, and will share their ideas with classmates and faculty members during research presentations. Although technical material will be covered, no specific technical background is necessary, and the course is open to anyone interested in renewable energy.
It's Not Easy Being Green: An Introduction to Green Chemistry and Green Engineering
Science and engineering continue to allow humanity to push the boundaries of what is possible, and to accomplish wondrous and previously unimaginable things. The downside of many of our greatest technological advances, however, has been the generation of pollution in various forms. From non-degradable plastics and microplastics accumulating in our oceans and the chemicals and synthetic hormones now found in our water sources, to contaminants and greenhouse gases accumulating in the air we breathe, we now, as a species, face important new challenges. We have the opportunity to rethink our approach to development and to adopt practices that will minimize the environmental impact of our activities. This course explores the immediate challenges we face in managing and minimizing pollution and waste, and discusses the 12 principles of green chemistry and engineering that scientist and engineers must consider when developing new technologies and designs. The focus will be placed on water and air pollution, the technologies available for their management, principles of sustainable development and waste minimization, and environmental impact assessment through tools like life-cycle analysis and environmental system analysis. Students will discuss their ideas with classmates and faculty members during research presentations. Although technical material will be covered, no specific technical background is necessary, and the course is open to anyone interested in green technology.

For VSP Chemical and Biological Engineering-specific questions, email undergrad@chbe.ubc.ca.
Student testimonials
"I'd like to say I highly recommend this program. The UBC teaching staffs including our prof and teaching assistants, really impressed me. Every time I had some questions about the class or experiment, I would have the patient and quick reply from them. Also, the tasks are not really tough to do, if you try hard. From the dormitory window, we saw the sunset with the beautiful sea and old-growth forest. And firstly I think about that this program is only related to our studies, but the CHBE also arranged a series of activities in Vancouver city for our students. […]
…After our summer program, my friends and I miss the day in UBC almost everyday. If I can back to the past, I would finish my whole bachelor degree in UBC. I hope I can come back to UBC one day."
– Qiuyu Chen, VSP Applied Science Student, 2019