UBC Engineering's world-class faculty and researchers are committed to an instructional approach that is varied, experiential and engaging. This multi-faceted approach makes UBC engineers stand apart, on a firm foundation from which to build an exciting and rewarding career.
What you might expect/course format
While each course varies based on the subject and instructor, our VSP Packages feature:
Interactive in person lectures
Hands-on labs, fun and practical demonstrations
Team-based assignments
Fun social activities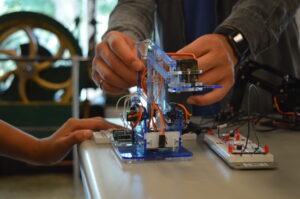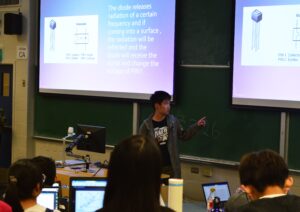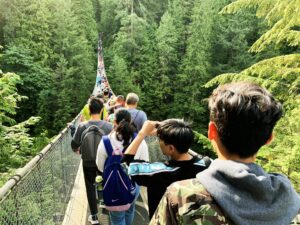 Introduction to Robotics

Introduction to Robotics will provide an overview of common robotic devices and their classifications, and discuss industrial and home robotics applications. Major technical challenges in robotics will be considered, including dynamics related to trajectory and path planning. Through lectures, group activities, and hands-on lab work, students will explore both how robots sense their surroundings and gather information, and how they can interact with their environment. This course is technical in nature and will include a hands-on component. It is oriented towards science and engineering students but no experience in robotics is required. However, an understanding of high-school trigonometry is required in order to follow the material, and familiarity with programming is encouraged.
Roboethics: Challenges from Computational Intelligence

This seminar-style course will provide students with an awareness of the current state of thinking of the design of robots that are meant to co-exist with people (service, therapy, military, sentry, etc.).  The course will provide insight into how sociology, psychology, law, literature and design can contribute knowledge to arrive at a safe and effective co-existence between humans and machines that have some autonomy from their computational intelligence, i.e., robots.  The course will examine the taxonomy of collaborative robots, the underpinnings of bioethics applied to technology, and several controversial robot application areas.

Prerequisites: Preferred background in Engineering or related discipline. Undergraduate applicants only. Due to the technical components, an understanding of high-school trigonometry is required in order to follow the material, and familiarity with programming is encouraged.
For questions about VSP Mechanical Engineering packages, email vsp@mech.ubc.ca or call (+1) 604-822-6584.
Student testimonials
'"Frankly, VSP is overall a great summer program in North America. Life in Vancouver doesn't' stand still. The teaching quality are assured by the polished staff and support. The patient, proficient, and accessible support and mentors are second to none. I am very passionate about being able to having a wonderful campus life in UBC. My computer science background helped me to solve problems with my teammates in a pleasant way.
…the course instructors are so approachable and available to answer questions at any time even late night. I built unforgettable friendship with my classmates and instructors. Apart from coursework, I had much spare time to discover Vancouver and its surroundings."
– Ruiyu Gao, VSP Applied Science Student