The School of Architecture and Landscape Architecture (SALA) brings together the disciplines of Architecture, Landscape Architecture, Urban and Environmental Design.
What you might expect/course format
For the Vancouver Summer Program we offer course packages that look at different aspects of architecture, landscape architecture, or urban design. Our packages consist of interactive lectures, in studio design projects, along with touring of the local region and are taught by many notable instructors, including the former Mayor of Vancouver and practitioners working in the field.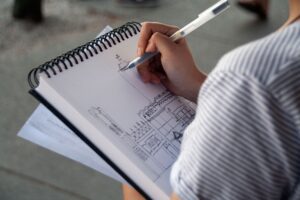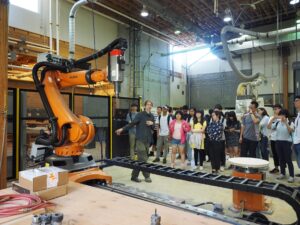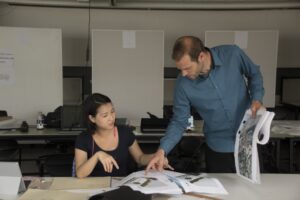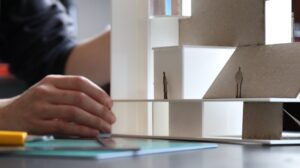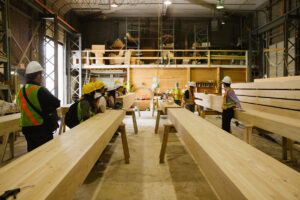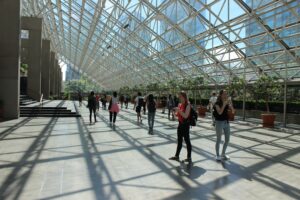 *This course package is canceled for July 2023. Students who have applied for this package are encouraged to consider switching to other ARCH VSP course packages.
Design Thinking Through Making
The built environment is full of design problems. From products to cities, these problems do not have correct answers, but rather a range of possible solutions. To tackle these design problems, we need to explore different ways of thinking. In this hands-on course, students will learn to approach open-ended problems through the lens of a designer and explore the built environment through hands-on design projects. Students will tackle each project in stages, from initial concept to final result, with interim reviews along the way. They will learn to communicate their ideas both verbally and to critically analyze the work of classmates. Drawing from examples in architecture, landscape architecture, urban design and product design, students will cultivate abstract thinking skills and increase their visual literacy.
Design Thinking Through Drawing
Drawing is an essential part of design thinking and communication. From sketches, to plans, to detailed diagrams, visual representation is a fundamental skill. While digital methods are increasingly common, the culture of putting pencil to paper is still at the heart of these techniques. This hands-on course introduces you to the drawing techniques used in architecture, landscape architecture, and urban design. Through lectures, field trips and in-studio sessions, students will learn methods of visually communicating concepts and intent. With a focus on analog, the skills developed in this course will offer a strong base for further studies in design and design media.No previous drawing experience required.
Green System Planning
Vancouver is a beautiful and sustainable city in a dramatic natural setting. What role do the natural areas in and around the city play in sustaining a metropolitan area such as Vancouver? This course will introduce how urban natural areas clean air and water, sustain wildlife and provide psychological and other health benefits to people. Students will learn about the most important environmental services and human benefits provided by the large parks and natural areas in the Vancouver region; and students will hike or bike on guided field trips to some of the region's most important and instructive landscapes, open spaces and parks.
Design in the Public Realm
Vancouver is known as a liveable and sustainable international city. An important aspect of the city's liveability is the design of its public realm — publicly owned parks, greenways, waterfronts, streets and squares. A well-designed public realm provides places for people to gather, socialize and recreate; encourages active transportation; maintains spaces for the urban forest and vegetation to thrive; and contributes other environmental services to the city. In this field-based course, students will learn how a well-planned and -designed public realm supports liveable neighbourhoods and provides important social and environmental services to the city. Students will learn how to document and assess public spaces in the city and, through daily field trips and guest lectures, will study the city's best examples of public realm design.
Perspectives on City Making
Taught by the former Mayor of Vancouver Sam Sullivan, this class uses the development of the City of Vancouver to illustrate how many social, political, economic, creative and natural forces combine and interact to make a city. Students learn and experience these forces through the eyes of those who were a part of it. There will be tours and guest lectures from those who played a role in specific development projects. Students will gain an insight into both the practical and theoretical considerations that have led to the city as we know it.
Sustainability by Design
Using the City of Vancouver as a laboratory, this class introduces the basic principles of sustainable urban design through daily tours of internationally significant local examples. Relevance of these examples to global development is isolated and discussed. A typical day includes a lecture focusing on one principle of sustainable city design, followed by a tour of a place in the region where this principle is obvious. Students will see and experience examples of significant contemporary urban design practice in suburban, urban and downtown contexts.
For VSP Architecture & Landscape Architecture-specific questions, email Tara Deans, Manager of Student Services and Recruitment, at vsp@sala.ubc.ca
Student testimonials
"It was super fun! I would definitely do this again or something similar to it. All the instructors were very nice and helpful."
– VSP SALA Student
"Very interesting approach to the entire topic of design from an architectural perspective. Creativity and expression was greatly encouraged and elicited from students of all walks and backgrounds. Most enjoyable experience."
– VSP SALA Student