The Faculty of Education at the University of British Columbia, top-ranked in Canada and 9th in the world, has served the international education community through leadership in research, teaching, and service for over 50 years.
What you might expect/course format
The UBC Vancouver Summer Program in the Faculty of Education is a four-week program developed for international undergraduate students. The courses deliver academic rigour through pedagogies selected to optimize learning of students with diverse cultural and linguistic backgrounds. The program provides the opportunity for students to learn about a wide range of education topics in a Canadian context, while also exploring Canadian society and culture through engaging classes, field trips, and social activities. It is a truly holistic learning experience!
Each package consists of two courses (approximately 39 hours of class time per course)
Classes are interactive and often include discussions, group work, and field trips
Evaluation may include assignments, group projects, papers, and presentations
Out-of-the-classroom activities extend learning opportunities and help build international networks of colleagues and friends
Students' home universities can receive detailed information about the courses and records of students' achievement and may grant academic credit for the courses at their own discretion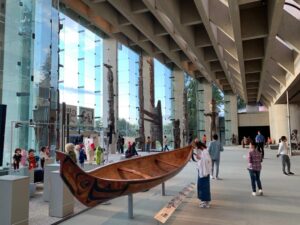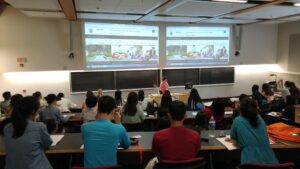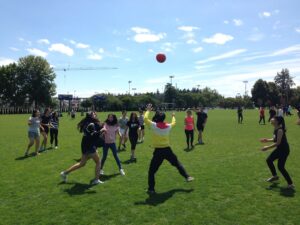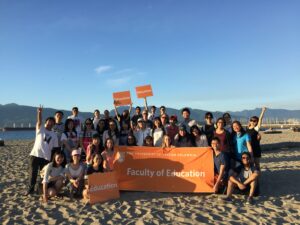 Applied Linguistics for Teachers
Successful language teachers need to understand more than just the structure and nature of the language(s) they teach: they also need to develop an understanding of the social, cultural, and ideological implications of language and language education. Language classrooms are diverse, multilingual, multicultural and multimodal places, presenting students and teachers with unique challenges. This course serves as a general introduction to theory and research concerning these issues as they relate to learning and teaching, from the perspective of applied linguistics. Topics to be discussed include: theories of first- and second-language learning; the relationship of theoretical issues in applied linguistics to educational practice; language variation; language attitudes and ideologies; world Englishes; language and globalization; language policy; language and gender; language and race, and more.
Introduction to Teaching and Learning English
This course provides a general theoretical overview of and some practical preparation for English language teaching (ELT). Its scope is diverse as it considers approaches to language teaching, a range of teaching techniques and strategies, learner needs, instructional contexts, assessment, and sociocultural concerns, as they pertain to teaching English in a variety of contexts. The course examines ways to teach listening, speaking, reading, writing, grammar, and vocabulary but always with a view to integrating these skills. Students will have the opportunity to contribute to and learn from active engagement in discussions on contemporary ELT issues and topics.
Participants must be 19 years or older.
No prerequisites.
Designing High Quality Curriculum in Early Childhood Settings
This course addresses the notion that children are natural learners. Students will learn about, discuss, and clarify important concepts and theories relative to early childhood education, including child development theory and the holistic nature of learning in the early years. The course highlights the idea that young children's innate capacity to learn and teachers' responses to children's inquiries provide the foundation for the development of high-quality early learning experiences for young children and impacts the type of programming that is created. Students will learn about designing appropriate daily routines and implementing teaching strategies for integrating different areas of learning, such as literacy, math, science, and art through inquiry and project-based learning. The course will also include observations in local Early Childhood settings.
Creating Environments to Support Learning in Early Childhood Settings
This course introduces students to the significant role that designing stimulating and nurturing early childhood classroom environments plays in children's learning and in supporting all aspects of their development and growth. Students will learn about creating dynamic indoor and outdoor learning spaces for young children and the importance of providing children with original and natural educational materials and resources. The course will include visits to local state-of-the-art Early Childhood environments for young children.
Participants must be 19 years or older.
No prerequisites.
For VSP Education-specific questions, email Fang Wang, Director of International Initiatives, at fang.wang@ubc.ca.
Student testimonials
"It has truly been a transformative learning experience for me. As a student teacher, I learned so many practical teaching skills and classroom management strategies here. These four weeks broadened my understanding of teaching and learning."
– Liyan, VSP Education Student
"I truly enjoyed studying at UBC to learn about teaching and learning, and exploring Vancouver after class. The city itself is a large classroom to learn culture, history, different ways of being, and it all inspires me to reflect on how to be a better educator."
– Pablo, VSP Education Student