What you might expect/course format
Courses will consist of interactive lectures and may include field trips around campus or to local destinations around the city depending on the course.

Instructors are both academics in their area of expertise and also practitioners in the field, providing real-world examples and scenarios in their classes.

Participants may be evaluated on written assignments, group work, presentations and participation in classes and field trips.

The program packages will be supported by student leaders as well as staff from the Faculty of Forestry to make the experience as engaging as possible for participants.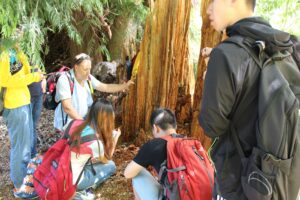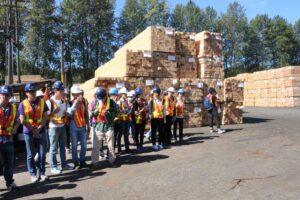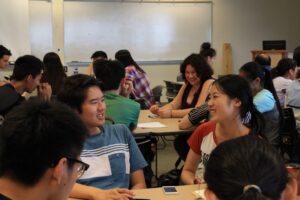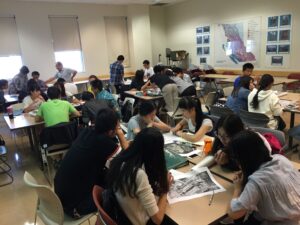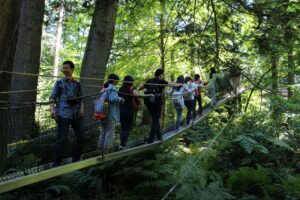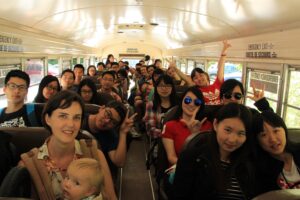 *This course package is canceled for July 2023. Students who have applied for this package are encouraged to consider switching to other course packages available at VSP.
An Introduction to the Ecology, Economics and Politics of Carbon
Humans use carbon-based molecules in almost all aspects of daily life – food, shelter, clothing, and power generation are but a few examples. Unfortunately, deforestation, land degradation, and fossil fuel emissions are responsible for the build-up of carbon in the atmosphere. This is causing the atmosphere to heat up which in turn is changing the global climate. To understand why this is a problem and what we can do about it, students will be provided with an introduction to the ecology of carbon (where it is, and how it cycles through the living and non-living world). We will then discuss the challenges of limiting carbon emissions by considering the interaction between economics and politics. This interactive course will include lectures as well as fieldtrips to different sites around campus to demonstrate the concepts learnt in class.
Sustainable Forest Management
This course represents an attempt to integrate knowledge and processes relating to forest management across a wide array of disciplines, but it is centrally concerned with bringing the underlying ecological and management science together. It involves a mix of lectures, group discussions and field visits to increase the understanding of students about problems involved with managing forest ecosystems for a variety of societal goals and objectives. The course is heavily geared towards ecological, economic and policy context of British Columbia; however, international implications and issues of forest management are also covered. The objective of the course is to familiarize the students with a variety of forest ecosystem values and their management issues and to enable meaningful analysis of the current issues in forest sustainability.
No prerequisites.
*This course package is canceled for July 2023. Students who have applied for this package are encouraged to consider switching to other course packages available at VSP.
An Introduction to Urban Forestry
This course will provide a general introduction to the concept of Urban Forestry and why this is an important topic in today's rapidly urbanizing society. There is a growing need to adapt to multiple impacts of climate change; and increasing demand from the public for the recreational, psychological and health benefits that green-space networks provide. With increased urban populations, global warming, urban heat islands, flooding and pollution, cities may become unlivable or demand massive energy-use for cooling, unless we can establish large scale, healthy urban forest systems. This interactive course will be supplemented by a number of field trips around the Greater Vancouver area, visiting a number of local parks and hearing from experienced practitioners in the field.
Urban Forestry and Well-being
Urban forestry is about planning and managing urban green-spaces and ecosystems for human welfare, ecological health, and protection of our cities' support systems. Urban forest networks, parks, wetlands, and other green infrastructures are vital in moderating heat waves and cooling demands, maintaining biodiversity and carbon sinks, controlling forest fires, storm-water flood mitigation, bio-energy production, etc. Urban Forests improve and protect our health, property values, local jobs and businesses, outdoor recreation opportunities, and community character. This course will give the students an introduction to the importance of understanding urban forestry in the face of today's rapid urbanization as forests and green systems compete for space among buildings, roads/transit, storage facilities, and energy infrastructure. Students will be able to experience the concepts learned in class through fieldtrips and class activities. Past participants have been taken on fieldtrips to various locations around the Greater Vancouver area including Surrey, North Vancouver and Stanley Park.
No prerequisites.
For VSP Forestry-specific questions, email Ana Curcin or Janna Rumary-Kellett at vsp.forestry@ubc.ca.
Student testimonials
"[VSP] was the most special and happiest thing in my life, I experienced a dynamic life and got more independent. Teacher brought us outside to many parks, making me understand how important to maintain green space in urban areas."
– Ko-Hsuan Tsao (Gina), VSP Forestry Student
"Lessons in faculty of forestry are various. Rather than limited to "the book", we went to the Pacific Spirit Park in the campus, walked into the forest to observe and experience by ourselves. That was the best month in my school life!"
– Yi-Tzu Wang (Candice), VSP Forestry Student