Many of our students take fond memories back home from their VSP experience. Bryan Chang, a 2019 VSP student, is one one of those students. Three years later, he still looks back on the program with fond memories. Participating in Arts Package D: International Finance, Trade, and Politics, Bryan developed useful research skills and met a diverse group of classmates. Despite having to adjust to the lifestyle and teaching methods of UBC Vancouver, Bryan quickly developed a strong community with other VSP students. We recently caught up with Bryan to see what he is up to now, and how VSP has contributed to his academic career. Here is what Bryan had to say:
"I think it's important to participate in VSP with an open mind and be ready to embrace the social and academic experiences that come with it"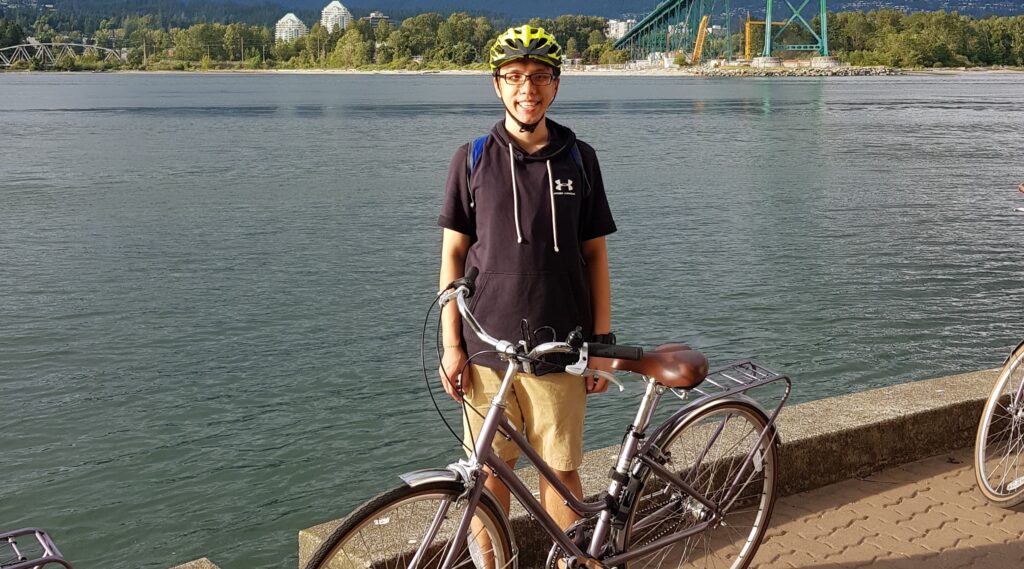 I'm Bryan, a final year student at the National University of Singapore majoring in Political Science and Economics. I enjoy reading books, watching films, and running in my free time, and am also involved actively in student activities such as planning for an upcoming school run event. At this point in time, I'm looking towards a career in the Singapore public service or a role in management/political risk consulting and am currently undertaking an internship with Singapore's Ministry of Law.
Why did you decide to apply to VSP?
Having spent most of my life in Singapore, I had thought of enrolling in a summer school program overseas when I entered university as I wanted to experience life independently abroad and interact with people from across the world. It was by chance that I met a fellow classmate who was an exchange student from UBC, and he shared with me more about life in Canada, his experiences as a Thunderbird Athlete, and the UBC VSP. I was impressed by his description of UBC's vibrant student life and decided to consider enrolling for the VSP. The positive testimonials from past participants, affordability, interesting cultural and social activities such as the Rocky Mountains trip, and hassle-free experience in securing accommodation compared to other similar programs eventually convinced me to enroll in VSP, apart from other factors such as Canada's multicultural diversity and relative safety and security.
Could you share a little about your academic experience at VSP?
I particularly enjoyed taking the course on Dynamics of Democracy and Global Uprisings. It was my first seminar style class, and I had a great time getting to know fellow classmates from places such as India and China while debating on issues such as the viability of democracy in responding to citizen's needs, which was quite different from what I was used to at home as a first-year student. My instructor, Dr. Turan, also gave me many useful tips and advice which encouraged me in taking on an additional political science major after returning back home to Singapore. The course helped me greatly in preparing for the seminar style class that I am currently taking as a final year student. The other course that I took on International Trade and Finance by Dr. Graves was also very interesting and insightful. I was able to practice my research skills with fellow classmates on real world economic issues, which I had not done so in my home university at that point in time. I also improved my understanding on macroeconomic and trade-related concepts, which prepared me for subsequent Economics courses at my home university.
What was the most memorable part of your VSP experience?
That would be the gatherings/outings which I had with a close group of friends from Singapore and China. It was the times which we went out exploring Vancouver during the weekends and had home-cooked meals in our apartments during weekdays that I can still remember vividly up till this day. I think that being able to socialize with one another and share about our personal lives, as well as plan and go out on trips beyond campus were things that brought us closely together as international students new to UBC. Searching for good breakfast spots downtown, heading to the outlet mall, and climbing the Grouse Grind are three moments which stand out for me from these outings.
What about VSP surprised you the most?
Yes, I had expected that many VSP participants would be from UBC, but I was surprised to see that only the cultural advisors were UBC students. That said, I feel that this is what makes UBC unique compared to other summer schools which I have attended. The fact that all your classmates are international students new to Vancouver, from different cultures all over the world makes it easier to build close friendships through the summer program. Another thing was the pace of life in Canada, and how hospitable and polite Canadians are in general. Being used to a fast pace of life, I was surprised to see how patient people in Canada were in waiting in line. Greeting the bus drivers before you alight at a bus stop was also something that I got used to quickly within a week of arriving in Vancouver. Despite his busy schedule, I also got to catch up with my Canadian exchange classmate from UBC, and he and his family went out of their way to host me for lunch and dinner at their home and gave me many food products to take home. This was something that greatly surprised me as it was not something I was used to back home.
What is one thing you wish you knew before coming to the VSP?
One thing I wished I knew before coming to VSP was the huge variety of food which can be found all around campus. During my four weeks at UBC, I tried affordable Japanese food from Nori, delicious ice cream from Rain or Shine, café favourites from the Blue Chip café, and had my first taste of Lebanese food in a nearby food court. Although dining out or getting takeaway at UBC is slightly more expensive than in Singapore, having these convenient food options around saved me the hassle of cooking lunch and trying out a new food outlet was something which I looked forward to every day.
What is one thing you learned or took away from your time at VSP?
Something that I learnt from my time at VSP is to be confident in challenging yourself to exceed your personal limits. Before VSP, I was someone who wasn't very confident in balancing my time between academics and student life and was nervous about meeting new people in unfamiliar social settings. Boarding the airplane to Canada by myself, making new friends far away from home, and balancing between my academic studies in VSP and exploring Vancouver were some of my experiences in VSP that radically changed the way I felt and thought about myself. Following VSP, I became more confident and managed to exceed my own limits. I became more involved in student life while managing my academic studies well and started to interact more with others in various settings. It is not a far stretch to say that my experiences in UBC helped me greatly in attaining my internships and student leadership positions.
What advice would you give to future VSP students?
While I have talked a lot about how I benefitted from UBC, I think it's important to participate in VSP with an open mind and be ready to embrace the social and academic experiences that come with it. I believe that each of us has our own takeaways and insights from VSP, but something important would be to treasure this opportunity to broaden your horizons, meet new friends, and simply enjoy the whole experience that VSP has to offer! Until this day, I keep in contact with the many friends I have met from the program and we often think about the unforgettable experiences we had studying, living together, and exploring Vancouver and beyond. Also, while you might be slightly unfamiliar with how lessons in VSP are conducted compared to what you've experienced so far, you should take this as an opportunity to prepare for higher level seminar studies that require more class participation and interaction.
We are extremely grateful to Bryan for taking the time to catch up with us, and hope to hear from him again. If you would like to learn more about the VSP experience, click here.
---