---
With summer in full swing in July, this means longer days, warmer temperatures, and more opportunities for you to soak in the beauty of Vancouver to its fullest. There are so many activities that one can participate in during the summer months. For those who are extremely fond of enjoying the great outdoors or getting their heart rate up, this blog post is for you! Here are five things you can do in the outdoors this summer:
Stop #1: Do the Mountain Ropes Adventure, Mountain Zipline, or ride the Skyride on Grouse Mountain
Grouse Mountain is not just an adventure paradise for winter activities, there are in fact numerous activities offered in the summer that are sure to unveil the beauty of nature in Vancouver. Check out the Mountain Ropes Adventure, a series of aerial rope courses where you can balance, jump, climb, and swing your way through lush trees. Another course that will be sure to heighten your adrenaline is Mountain Zipline where a 2 hour guided tour, dual-line circuit ziplines, and a trip up the scenic Peak chair is included in this package. If you simply want to enjoy the scenic views of Vancouver from above, consider checking out the Skyride, North America's largest aerial tramway system that takes you to high altitudes for some breathtaking views of the mountains and nature of Vancouver.
Grouse Mountain even offers a free summer mountain shuttle service from Canada Place to the mountain with a purchase of a round-trip Mountain Admission ticket.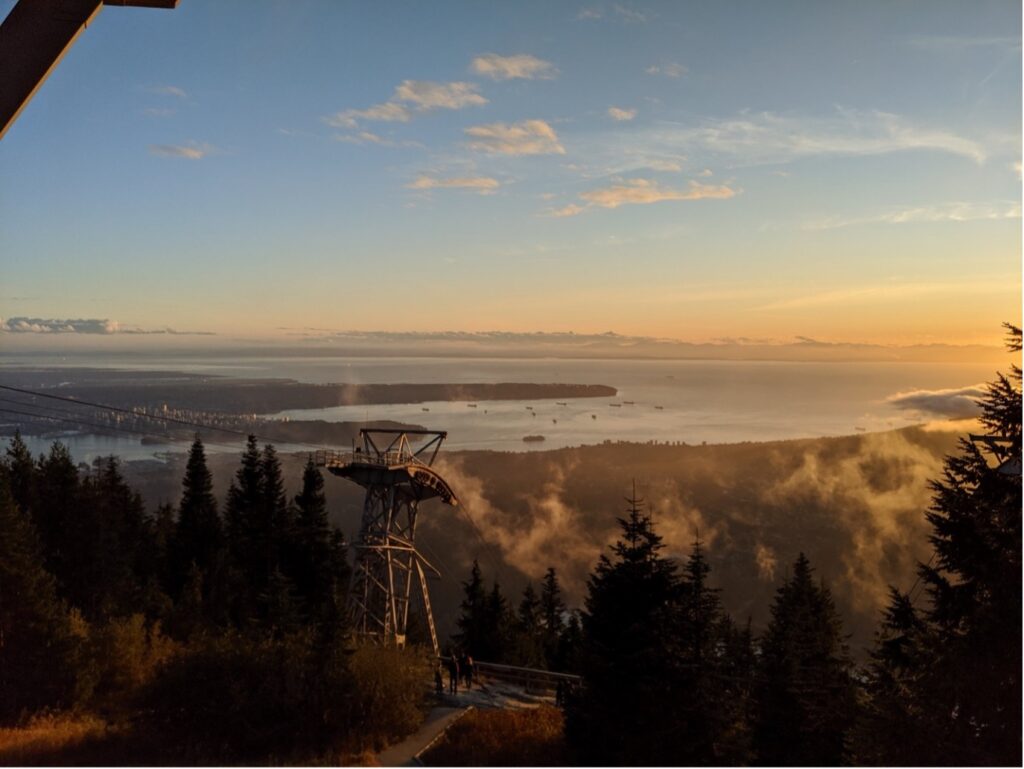 Stop #2: Kayak or Paddleboard at Deep Cove
Deep Cove, located in North Vancouver, is a popular neighborhood that is filled with many things to do—from enjoying the views at a local restaurant to kayaking and paddleboarding. Deep Cove is situated on the Indian Arm, which is surrounded by majestic peaks and forests. One of the most popular summer activities to do at Deep Cove is to kayak and paddleboard. You can rent kayaks and standup paddleboards starting at $45 for 2 hours. A special feature is to participate in a Friday Night Lights Kayaking tour where you are able to paddle out into the Indian Arm at dusk.
Don't forget to check out the famous Honey's Doughnuts for some of the best doughnuts found in the North Shore. Fun fact: many celebrities such as Kate Winslet, Jennifer Lopez, and Shay Mitchell, have visited the establishment over the years!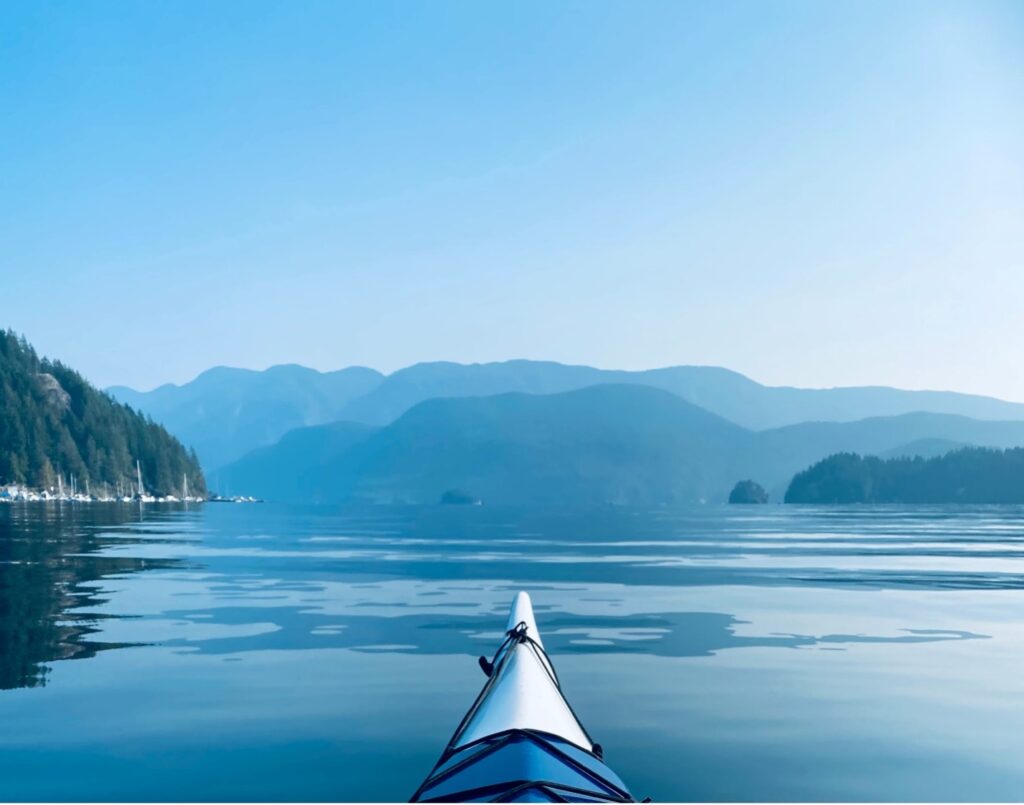 Stop #3: Bike around the Stanley Park Seawall
Biking around Stanley Park Seawall is one of the most popular activities local Vancouverites enjoy. The paved path is 10 kilometers in length and circles the entire park. As you cycle through the park, take in the cool summer breeze, beautiful mountains in view, and gorgeous city skyline of Vancouver. The bike ride would take around 2 hours, accounting for stopping at multiple spots to enjoy the view. Some key points of interest include the Totem Poles at Brockton Point, Siwash Rock, and the Lions Gate Bridge. Consider even enjoying a picnic in one of the beaches!
There are many bike rental companies along Denman Street in which you can rent a bike before heading for the Stanley Park Seawall!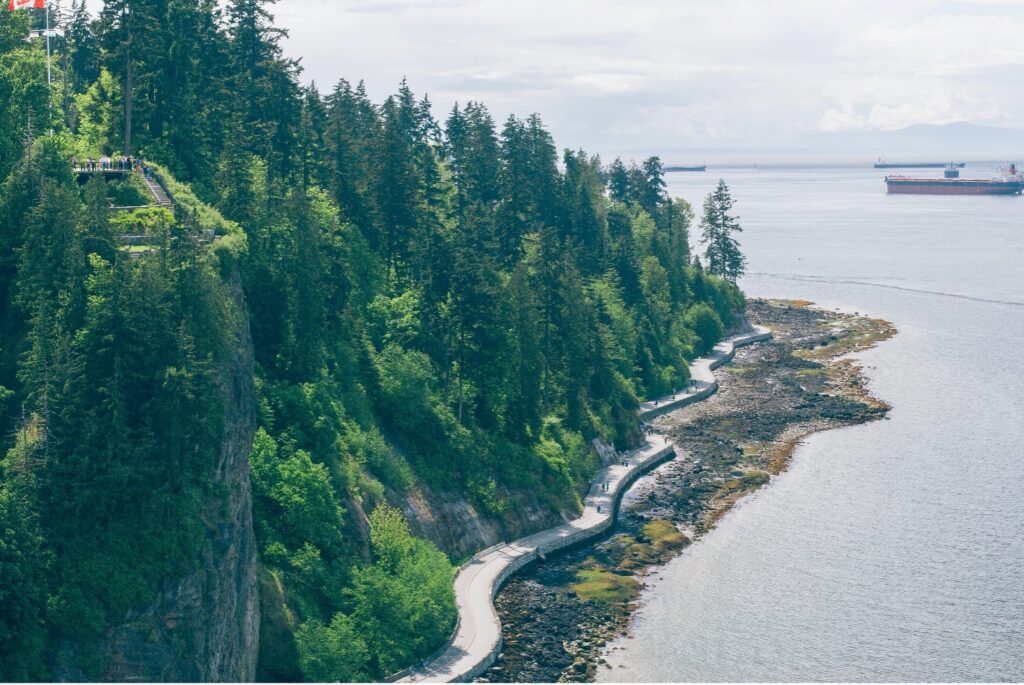 Stop #4: Do a picnic, swim, and suntan at English Bay Beach
Sometimes all we want to do is eat good food, feel the sand between our toes, and enjoy the sunshine on our skin. Doesn't the beach sound like the perfect place to do all that? Vancouver has hit the jackpot with amazing beaches. Some of the most popular beaches in Vancouver are English Bay, Spanish Banks, Kitsilano Beach, and Jericho Beach. Whether you want to play beach volleyball or simply tan in the sun, be sure to visit any one (or all) of these beaches!
Tip: Beaches get busy and populate very quickly in the summer. So if you plan to spend a day at the beach and want a good spot, be sure to be there early. And of course, don't forget sunscreen!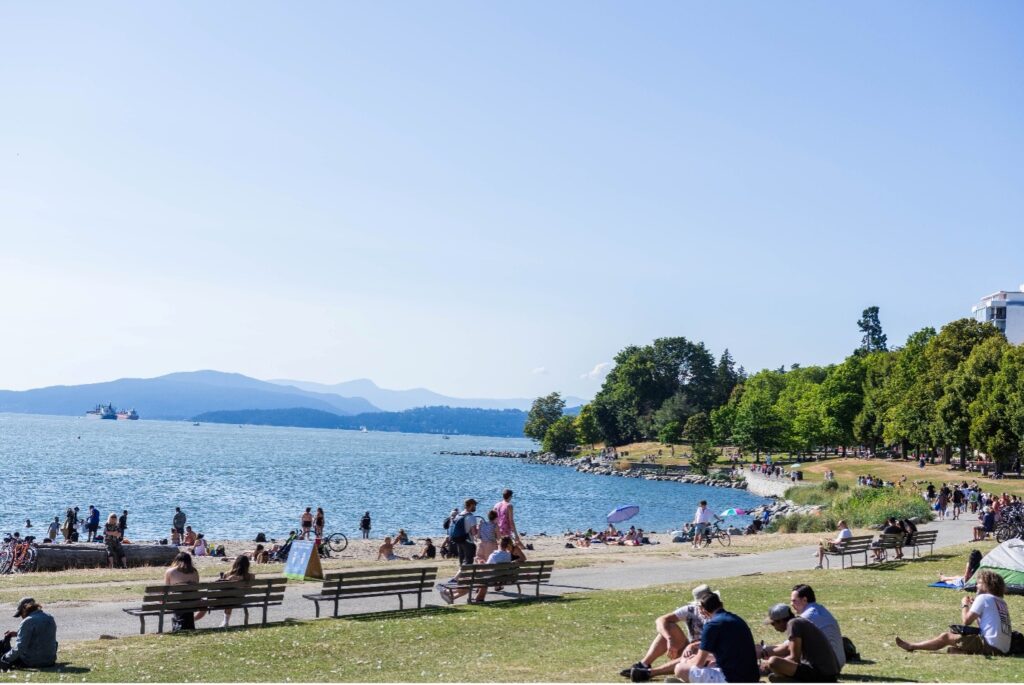 Stop #5: Trail Run in Pacific Spirit Regional Park
Last but not least, what's better than exploring in your own backyard? The Pacific Spirit Regional Park on campus is a 90-hectare park that has almost 75 kilometers of walking and hiking paths. Be in awe of the wide variety of plants, the lush trees, and the scenic beaches with breathtaking mountain views. Think walking the trails is too easy? Switch it up by running along the trails!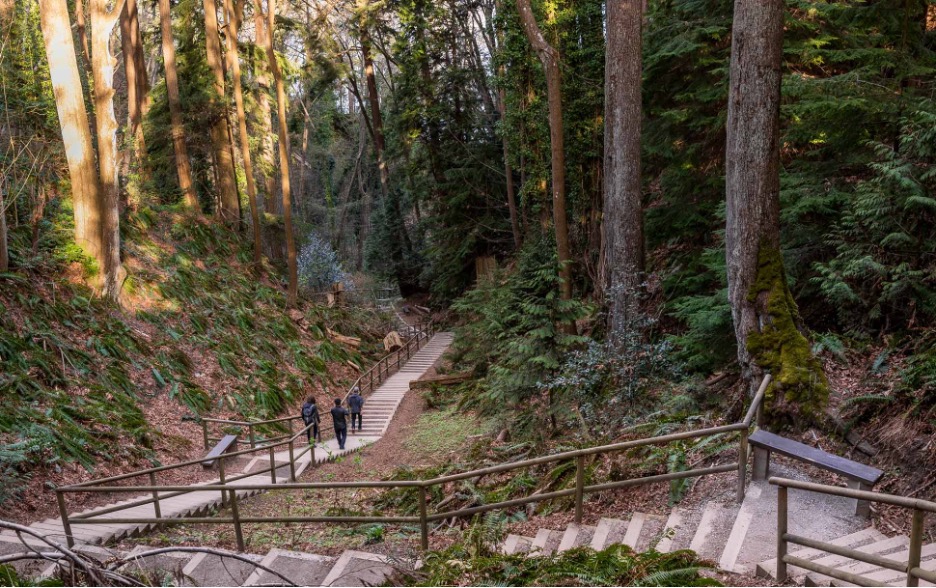 The number of places you can visit and activities you can do in Vancouver during the summer time are endless. Go for an adventure and explore the great outdoors!