As you know, the Vancouver Summer Program (VSP) is made possible by the effort and collaboration of various people at the University of British Columbia (UBC). A very important aspect of the VSP is the excellent academic experience that students get to participate in and our wonderful Faculty Coordinators are one of the people who make it possible.
VSP Faculty Coordinators are responsible for organizing and coordinating the faculty-specific experiences of students, in addition to working with instructors to design and offer diverse course packages. Amelia "Ed" Pitt-Brooke is the Faculty Coordinator for the Department of Mechanical Engineering and she shared some insights about the VSP and their work with us:
What is your role and department/faculty as it relates to the Vancouver Summer Program?
My name is Amelia "Ed" Pitt-Brooke. I am the Communications and Community Engagement Officer for the Department of Mechanical Engineering.
"I love working with a community of staff, faculty, and students looking to make the world a better place. Also, the campus is gorgeous."
Tell us about your work and its connection to the VSP.
I coordinate social and cultural experiences for our VSP students, our orientation materials, coordinating our cultural ambassadors, as well as other logistics to help our department provide an engaging experience while studying in Vancouver.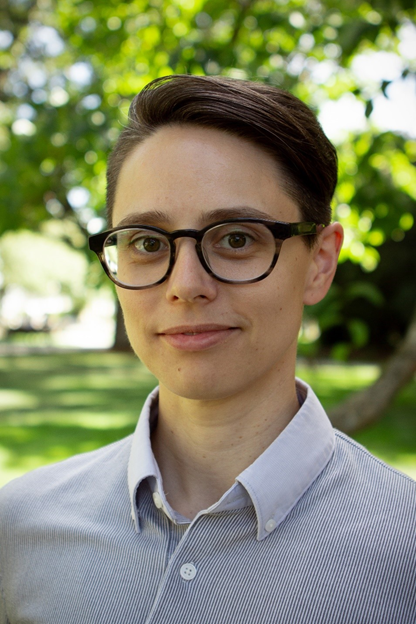 What is one thing that you didn't expect from VSP?
Getting to know other faculty coordinators from different programs and departments, and working together to create a great experience for students is a lot of fun.
What have you learned so far with being involved with the VSP?
Creating social programming to help students get to know UBC and Vancouver, allowed me to experience the interesting things on campus and in my hometown in a new way!
What have you found has been an unexpected experience for VSP students?
It is challenging to do two intensive courses within a month, and experience learning in another language simultaneously. We also provide lots of opportunities to meet your classmates and make friends, so you can have more than just a study experience while you're here.
How is studying at UBC different from studying at home?
This is different for everyone, since VSP students come from all over the world. Our program is very team-based, with projects, discussions and presentations. Don't be afraid to ask questions and engage in in-class discussion. Don't forget to get outside too, to enjoy all the natural beauty of UBC and the city.
What VSP activity can students look forward to? What was popular in the past?
Our social and cultural activities have included trips to North Vancouver's Capilano Suspension Bridge, a local baseball game, and a team scavenger hunt that ranged all over campus (the winning team got UBC sweatshirts), among other experiences.
What do you like about being a part of the UBC community?
I love working with a community of staff, faculty, and students looking to make the world a better place. Also, the campus is gorgeous!
What do you enjoy doing in your spare time?
I spend most of my time outside of UBC as a parent of a delightful five-year-old, and sometimes I even find a moment to practice the ukulele.
There, we have some valuable insights about the program from Faculty Coordinator, Ed. To learn more about VSP Mechanical Engineering, course packages, student testimonials, and general teaching structure, visit the VSP Applied Science – Mechanical Engineering page.