UBC Engineering's world-class faculty and researchers are committed to an instructional approach that is varied, experiential and engaging. This multi-faceted approach makes UBC engineers stand apart, on a firm foundation from which to build an exciting and rewarding career.
What you might expect/course format
While each course varies based on the subject and instructor, our VSP Packages feature:
Interactive in person lectures
Hands-on labs, fun and practical demonstrations
Team-based assignments
Fun social activities
Tours of industrial facilities (some programs)
Experience with industry standard software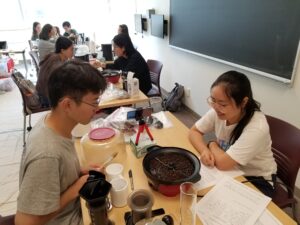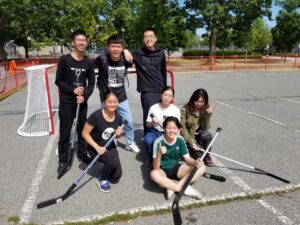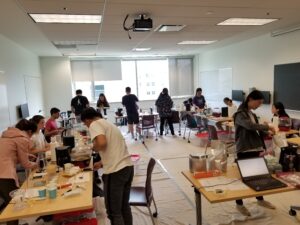 Communication Systems: Technology Embedded in Daily Life
Tweets, blogs, emails, videos, texts … we rely on a myriad of communication systems, but how do these systems really work? This course will explore the key historic technological breakthroughs that have led to modern communication systems. This will be followed by an introduction to how information is represented and why the digital revolution is the underpinning of modern communication. The remainder of the course will analyze current communication systems, technologies and standards selected to give an overview of what is on the market. Examples include the LTE wireless standard which is common in most cell phone networks, Wi-Fi for local wireless communication, and modem technology which enables information to be transmitted and received over fiber optic cables, wires or air. Students will build their knowledge through case studies of current communication technologies and systems with an emphasis on understanding and relating performance specifications to the user experience.
Introduction to Digital Systems Design with FPGAs
Digital systems lie at the heart of almost any electronic system including wearable devices, cell phones, signal processing systems, computers, biomedical devices, etc. In all of these systems, the "intelligence" of the system is implemented in digital logic. This course introduces digital systems, and how to design them. More specifically, you will learn about combinational and sequential logic, synchronous and asynchronous circuits, embedded processors, and other related topics. The course will have a significant laboratory component, where a digital hardware design language (VHDL) will be introduced and employed to bring to life your digital designs on an FPGA (field programmable gate-array) board.
Prerequisites: UBC Math 101 or first-year engineering equivalent.
Music: An Introduction to Electrical & Computer Engineering
Music has become an integral part of our daily life, but so few understand the engineering behind it. This course will give you an overview of Electrical and Computer Engineering (ECE), revolving around music. Several aspects of ECE will be covered, including the basics of acoustics and waves, the technology behind microphones, the electronic circuits behind amplifiers, analog to digital converters (ADCs) and digital to analog converters (DACs), sampling theory, signal processing using analog and digital filters, operation of speakers, encoding and compression techniques used in mp3, etc.
Music Laboratory: Hands on Learning
Have you ever wondered how a DJ machine works? What are all those knobs used on a mixer? How does a noise cancellation headphone work? In this hands-on course, students will learn about the technical details of different equipment used by recording artists and DJs, such as mixers, distortion units, bass pedals, synthesizers, and MIDI. Students will design and test a guitar amplifier as a class project.
Prerequisites: UBC PHYS 157 or first year engineering or equivalent.
Algorithms and the World Wide Web
The Internet and the World Wide Web have enabled new methods for communicating and working with data. What is the underlying infrastructure for the Internet? What are the algorithms used to move bits of data around? How is your credit card number kept secure when you buy a book from Amazon or Baidu? How is your location determined using GPS when you use Google Maps? How do some dating websites match people? We will discuss some of the system building and algorithmics that power the World Wide Web.
Building Modern Web Applications
Do you want to develop your own web-based application? Have you dreamed of making quick and slick looking web applications that are also robust? We will discuss the central abstractions and principles that enable the development of robust web applications. These principles can be applied when building applications using technologies such as HTML, CSS, and JavaScript.
Prerequisites: UBC CPEN 221 or first year engineering of computer science.
Package A, B, and C will not be offered for VSP 2022
Student testimonials
"My experience in 2019 Vancouver Summer Program is fantastic. I traveled to many places around Vancouver with my friends and TAs, saw many wonderful sceneries and knew the local culture, I even managed to meet my favorite YouTuber "Linus Tech Tips" on an expo."
– Zhaolin Shu, VSP Applied Science Student
"The instructors were really friendly and prepared abundant materials to engage students in class. We usually had one or two classes, and in the evenings there were all kinds of activities. Even though I didn't knew anyone in class before, I never felt lonely and soon made some acquaintances whose friendship I still cherish now."
– Ducheng Lu, VSP Applied Science Student