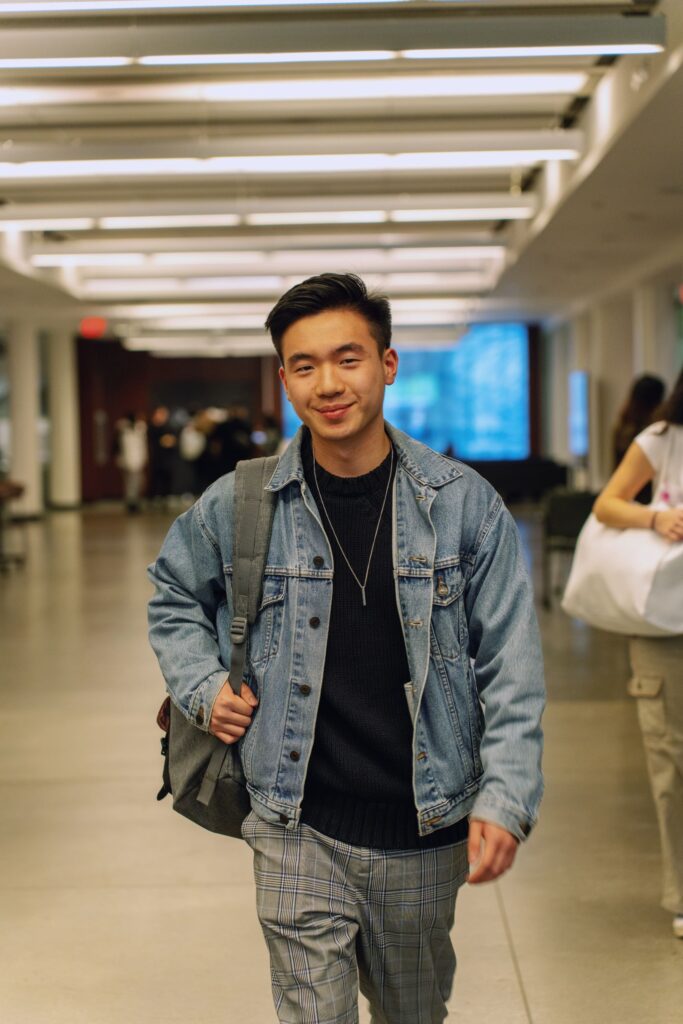 Student Jeffrey Low in the UBC Henry Angus building. Photo credit Jeffrey Low.
Following the success of the 2022 program, UBC Sauder School of Business is back participating in VSP in 2023. Jeffrey Low, UBC finance undergrad, wrote this blog post as a guide to life as a UBC business student and and posted this Instagram reel.
1. Tell us about yourself.
I'm in the third year of my Bachelor of Commerce, specializing in finance with a concentration in sustainability and social Impact. I went to UBC because my father studied here and I wanted to go somewhere I had roots. I chose business because I thought it was the area where I could make the most change. When you want action, business is very quick with decision making. This enables you to drive positive impact, which is something I'm passionate about. I wanted to study finance in particular because the intricacies of the subject made me curious: the complexity involved, breaking down what everything meant and applying it to the real world. For me, I thought it would be a great opportunity to expand on my knowledge about business, while learning some technical and tangible skills.
2. What is a cool project that you have done at UBC?
Right now, I'm the cofounder of a group called UBC Startups, which builds a community for entrepreneurial-minded students from different faculties at UBC. We hosted an event this past September bringing together more than 50 entrepreneurial students to help them potentially find their cofounders. Currently, there are a lot of resources on campus to help build a start-up, but there are few opportunities for students to network with like-minded people who could be their cofounders.
3. What is a fun fact about your study experience?
During my time at UBC Sauder, I would learn phrases from different languages just by meeting my classmates, going to events and volunteering around the community. I've always been interested in learning different things and language is something that's really fascinating to me. Because the student population at UBC Sauder is so diverse, I've also had the chance to ask my friends about their cultures. As someone who loves cooking, I've asked international students for their favourite home-country recipes and then would try cooking them myself!
4. What is your favourite thing to do in UBC and in the Vancouver area during summer?
To visit Wreck Beach. The cool thing about this beach is that it's Vancouver's first and only "clothing-optional" beach and is ranked one of the best beaches in Canada, so that's special. Since it's so close to campus, it's a good place to wind down and adventure after a long day of work or class. When I'm there, I enjoy reading, going into the water, lying in the sand and relaxing.
5. Do you have any advice for prospective VSP students?
Take advantage of all the opportunities you can get and see new places in Vancouver. I know that there is a curriculum that VSP students follow, and while academics are important, they should also explore as much of the city as possible during their off-time. I remember when I was volunteering, some VSP students made local friends and met up with them during the weekends. Because of their newfound local friendships, they got to visit places they wouldn't have been able to before, such as places you'd need to drive to or places only locals know of.
Check out our previous Faculty Spotlight here.